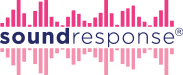 Making Inhalers Smarter with Sound Response®
Using inhalers isn't always simple.
Many people with asthma or other respiratory conditions, can find it difficult to use their inhalers effectively. 
Sound Response®
provides a solution to this challenge that anyone with a mobile phone can use. 
Rafi-Tone is our first app designed to make giving inhalers to children that bit easier. 
This is just the beginning of our big vision to effectively solve some of the longest-standing and costliest problems in the respiratory sector.
Find out how our unique apps can help you, your children or your patients.
Rafi-Tone is a fun, easy mobile app that's enabling children to use their inhaler and spacer with ease.
Our first Sound Response® technology solution is Rafi-Tone. Rafi-Tone is an interactive game designed for children using an inhaler with a spacer and mask. It  includes play-related nudges to encourage correct spacer technique.
So instead of a getting into a stressful struggle, children can enjoy taking their inhaler medication. We believe Rafi-Tone can revolutionise the way children interact with their spacers because it makes inhaler use a joy!
Want to see Rafi-Tone in action? Download here.
"My child can do it himself and enjoys it."  – PARENT
"I like the game. It makes me smile." – CHILD
"Children feel a sense of achievement when they know they can perform their inhaler technique." – NURSE
"My child loves it. He says it makes him happier to take his inhaler!" – PARENT
"More fun now I use the Rafi-Tone app." – CHILD
"Children are happier to use their inhaler and spacer morning and evening – compliance is improved." – NURSE
What is our sound detection research about?
We are committed to developing our technology to meet the needs of patients in the most effective way we can. 
Our company was founded by clinical researcher Professor Tariq Aslam at the University of Manchester – in response to problems his own son was experiencing.   
The principles of evidence-based development and research are at the heart of our work. Our various research projects all focus on improving the utility and accuracy of our sound detection technology.
"As a doctor I'm always looking for evidence to back up the claims of new technologies. The team at Clin-e-cal are committed to developing tools to the highest standards with the best of clinical knowledge. We are continually seeking to build the evidence supporting all of our apps and aim to publish these in peer reviewed forums wherever possible." – Professor Tariq Aslam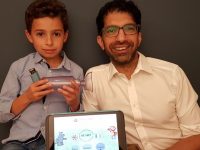 Want to know more about Sound Response technology? Get in touch today.